What first got you interested in flying?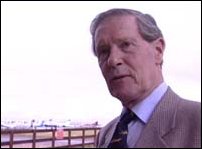 WW2 pilot Royston Day
Well as much as anything I suppose it was Meccano sets. I used to build these little silver strips and stick them all together and they were easy to put together and easy to take apart and you could even introduce your own design. Then I progressed from Meccano to flying models.
.....There was a shop in town, Ammanford, where I came from, and like all shops in the town, the owners were given nicknames; there was Harris Ironmongers, and my father was Day the Dentist, and this shop was Thomas Machines because he sold Singer sewing machines and he also sold toys. What I'd admired in the window was this Frog model and I'd saved up my money and I thought I had the right amount and I went to see him and put my 2/6d on the counter and I said I want that Frog model in the window, and before I could do anything he put his hand over the money and took it away and he said, it isn't 2/6d it's 4 shillings or something like that, and he said, you can give me 6d a week until you've got enough and then you can have the model aircraft. So I went on saving my pocket money and eventually I had this model and tried to fly it, not very successfully, and about a week later my sister stepped off a chair and flattened it out completely so that was the end of that. Other things were going on.
So you were saying there were other things …
Other things going on in Wales that kept me interested. There was a plane force-landed in the nearby town of Llandeilo. I didn't actually get up to see it but my father did. That was the north Atlantic record attempt by a man called Merrill. He ended up at the age of about 80 with something like 45 thousand flying hours which sounds absolutely incredible.
.....These sorts of incidents kept me going, kept my interest going. Then in 1933 we heard that Amy and Jim, that was Jim Mollison and Amy Mollison I think she might have been then, Amy Johnson before that, were going to attempt the north Atlantic record (See Note 1 below). They had a plane called Seafarer. It was a de Havilland Dragon I think. So we went down there on the Sunday expecting to see them take off but as soon as we got there they said that no, the weather's not suitable, the wind's not in the right direction or something. Anyway, we drove out on to the sands, as you can do at Pendine, and there was the aircraft and we were admiring it and looking round it and who should turn up but Amy and Jim. He climbed on board. There was a sort of triangular shaped door at the back and he opened this and all you could see were fuel tanks, red painted fuel tanks, and the thought, it was the only way up to the cockpit, the thought passed through my mind, how on earth is he going to get out in an emergency. As it happened, when they eventually did get away and they crashed in Massachusetts and he went right through the windscreen. A very quick exit.
.....That was another thing. I read books, read Biggles books. I saw the Hindenburg fly over Ammanford because Ammanford is on an air way called Green one and Ammanford used to be a reporting point, I don't know if it is to this day (see Note 2 below). One thing I did see which was interesting was the R100, the airship. We were camping at Pendine on the Gower Peninsular and everybody started shouting and pointing to the sky, so we went and looked, and there was the R100 gracefully going down the Channel and I found out afterwards that it was on an Atlantic crossing.
.....Of course then, there were rumours of war so I thought, I'm going to be a pilot. I was too young of course. I was only 16 when the war broke out so I had to bide my time but I did eventually get into the air force, volunteered in 1942 and went to Barry, which isn't far from here, and had a medical and I was in. Then went to London and went to Lord's Cricket Ground where there was an indoctrination sort of place and then through the training routines of the air force at the time. Out to Canada to learn to fly and got my wings out there then came back and ended up in bomber command.
What was your first bombing raid like?
You always went with an experienced crew on your first raid and Dusseldorf was my first raid with this experienced crew so I wasn't doing anything, I just sat there on a spare seat, what they call the jump seat, and before this when I was posted to bomber command, my heart sank because the loss rate at that time was very high and I think the expectancy was about six trips and the prospects were not wonderful and I thought I'd rather have been on fighters where you're sort of one to one rather than sit up there like a sitting duck. Anyway, once we were on our way, there didn't seem to be any fear. You're fascinated by what's going on. It's all new to you and you get into the, not the swing of it, but you're absorbed by it and the vivid sights of bombs dropping on Dusseldorf remain with me to this day, the brilliant colours and the flashes and every aspect of that first raid. Then a few days later I went off with my own crew.
Wasn't it frightening?
There were frightening moments but you learnt to keep it under really. You obviously couldn't show it because it would have gone through the crew. I would say generally that we just did a job and hoped for the best. There were frightening moments when you were caught by searchlights I suppose were one of the most frightening things, you're so vulnerable, you don't know what to do, you don't know whether to dive or turn or twist or anything. The combination of all those things eventually got us out of it.
.....One incident where we thought a Mosquito had passed overhead and 2 or 3 of the crew suddenly realised it was a Junkers 88 so instead of hurrying to get away from him we suddenly thought, he's not attacking us, we'll attack him and we turned round and everybody started blazing away and we were actually credited shortly after that – the Junkers 88 confirmed damaged.
.....By the end of the war I'd done 23 trips and what they call a tour at that time was 25 so I was two short of my tour which would have meant an automatic DFC. At the end of my war effort they said right, you can finish your tour flying against the Japanese. They had a thing called Tiger Force where we were going to be based in Okinawa and have these long-range Mark VII Lancasters and bomb the Japanese. Of course the war ended before that, Hiroshima, but before the war ended, whilst we were training for this Tiger Force which was a very boring business. They made us fly every day and every night on all these bombing fighter affiliation exercises. I got fed up one day and did a bit of low flying and after that I was court martialled and dismissed from the RAF. I didn't realise it at the time but I was out long before the general exodus and I could have taken advantage of that and gone straight into civil aviation but I thought once they hear I've been thrown out of the air force they won't want me.
.....I decided to follow my father's footsteps and become a dentist and by the time I'd organised all that and then found myself at Swansea university sitting alongside students who'd had no break in their education and I'd had this four year break and I wasn't getting anywhere fast. So I was still buying the flying journals, Flight and Aeroplanes, and I could see they were crying out for pilots so I packed it all in.
.....They even paid me back my term's fees at Swansea university and I went to Bristol, Merchant Venturers' Technical College which was mainly for seafaring types. People taking their mates and master's tickets. One of the instructors there was an ex-navigator so he took me through the syllabus very quickly and then applied for the exams and found I had to wait a month so he then took me very quickly through the navigator's syllabus. So I had a pilot's licence and a navigator's licence and found I was very much in demand.
.....I was offered three jobs in a week – BOAC, a firm called London Aeromotor Services, I'd have been a Halifax captain with them although I'd never flown Halifaxes, or a job with Silver City Airways. I chose Silver City and flew on their inaugural flight where we flew out to Johannesburg and picked up a team of geologists to fly out to Broken Hill in Australia. Broken Hill in Australia used to be called Silver City, which is why the airline was called Silver City. We got back, before we left they said, you'll be out 14 days, we got back 52 days later. Anyway, after about seven months they had a panic board meeting, found they were losing a lot of money, sold the Lancastrians and I was out of a job.
.....So I went back to stay with my parents in Ammanford and at the time there was a thing called a control of engagements order which meant that if you went to the Labour Exchange and collected dole they could then direct you anywhere you liked. Living in Ammanford there was only one place and that was down the mines. The Manager was very friendly, knew my father, and he said you're a pilot, you're a professional man, I can't direct you.
.....So I collected 24 shillings a week for 9 months and then got a job with Cambrian Airways at £6 a week, and 5 shillings an hour flying pay.
When did you join Cambrian?
March 1948 and although it was only £6 a week and 5 shillings flying pay I was only too glad to be flying again and working again. This question of 5 shillings an hour flying pay was not as rosy as it looked on paper.
.....I'd worked for about a month and done hardly any flying and then the MD, a man called S Kenneth Davies whose interests were in wire ropes, he had a factory in Cardiff and another one over in Somerset somewhere, but he was an amateur pilot and he was very keen to promote civil aviation in Wales. I think he probably hoped for a knighthood behind it all but in the end finished up with a CBE, but that was much later on. He was also a very sharp businessman and he said to me, I've got a job for you tomorrow, I want you to fly me and my wife up to Northamptonshire or somewhere like that, Yeadon I think it was, so I rubbed my hands with glee and flew off from Cardiff up and landed. He said, I'll be back in an hour or so, and disappeared, was met by a friend and off to lunch and I was sat at the airport twiddling my thumbs. There was nothing there, nothing to eat or drink.
.....Eventually he came back and said take us down to one of the, Elstree, somewhere like that, just outside London and dropped him off and flew empty back to Cardiff. Five hours and 20 minutes, something like that, at 5 shillings an hour it would have been, I've forgotten what it was now, but almost half a week's wages and at the end of the week, my salary used to come in a little brown envelope, it was the usual £6 a week. So I went into the office and we had a man working for us called Calvert Williams who was the general factotum so I said, Calvert, why haven't I been paid for my flying time. He said, I'll look into it and he called me back half an hour later and said, SK says, look at your letter of appointment. So back in my digs that night I looked at my letter of appointment and it was said that I was employed as a captain, £6 per week + 5 shillings remunerative flying hour. Of course flying the boss wasn't remunerative so I didn't get my 5 shillings an hour. That was typical of the man and as it was a struggle to exist on £6 per week.
.....I was obviously looking around for other work and one of the perks, if you can call it that, of the job was that on a day off we could use any aircraft we liked. I went off on this particular day in one of the company's Austers and flew up to Blackbush for an interview for a job with another company called Airwork. Later in the week he came down to the airport and said, have you had your day off this week and I said yes. Go anywhere particular? No, just flew around in the Auster. Weren't anywhere near Blackbush were you? Obviously he had friends in Blackbush in Airwork and he knew all about it and he said, take a week's notice. That was the end of my days in Cambrian.
Didn't you start something?
Oh yes, I've just told you the beginning and the end. In between it was interesting flying. We started lots of things. On a typical day you would just arrive at the airport and the only way to do that was by tram out to where Cardiff airport was then at Pengham Moors, which is now a great big development, it became an industrial estate and now I think it's all part of Cardiff Docks development, and the tram didn't operate on a Sunday so I don't know how I used to get out there. Walk it I think half the time. Apart from one time when I had a little paratrooper's motorcycle called a Corgi, a folding motorcycle, and I applied for petrol because petrol was rationed at the time, and was refused it. So I used to use aircraft petrol to drive out there on a Sunday and in my pocket I had a bottle of lighter fluid so if the police ever stopped me I'd say I'm operating on lighter fluid.
.....Anyway, I'd arrive, there'd only be one of us on duty on a Sunday and you'd just sit behind a telephone. The phone rang, somebody would ring up and say can you take me to so and so and we'd draw a straight line on the map and if it was the Auster it was a shilling a mile, if it was the Rapide it was 2/6d a mile. Off you went, collected the money and did everything. One of the flights that I did was out of Cardiff down to the west country, somebody wanted to go down there to a funeral and I was going to take him in the Proctor, which is a little four seater, single engined aircraft we had. I rang up the RAF station I was flying to, St Eval I think it was, and they said, well the weather's very bad here and we can only take you if you have radio.
.....There was no radio on any of our aircraft but there was a Rapide in the hangar that Cambrian had bought from the RAF as RAF surplus and that still had the RAF radio on board. I knew there was a mechanic in the hangar who had some knowledge of radio, so I rang back, rang back St Eval, and said, that's alright, we're now coming in the Rapide with radio and they accepted that. I omitted to mention that the radio wasn't working. The so-called wireless operator wasn't licensed. Anyway they accepted my story that we were coming with radio and off we flew.
.....It was foul. I had to follow the coast all the way down, right round the various bays and I think the cloud base must have been about 500 feet. I found St Eval and the wind there was really howling up a gale and I went down like a lift and then having touched down I couldn't taxi, the wind was so strong. So they had to send two airmen out, one on each wingtip to guide me in and I turned round expecting to see a very sick passenger down the back and he was sitting there with a wreath on his knees, he was going to a funeral, with a great smile on his face. Lovely flight he said, marvellous.
.....Another interesting flight I did was somebody had won a ticket in the Irish Sweep to the Grand National. He'd won a horse. It was Loch Con and the year before Loch Con came second. It was a very young horse. So they asked if I'd fly them up. I was chartered to fly them up to Liverpool, Speke Airport. And apparently they'd been offered £1000 for a half share in this ticket and they'd turned it down. In 1948 it was quite a lot of money. Anyway I flew the pair, husband and wife, up to Liverpool. Went with them out to the racetrack and went down to the stables, met the owner, the jockey, everybody. The owner said it had been entered the year before just for experience but now it was raring to go and we went up into the stands and sure enough, it was leading the field first time round. You know they do two laps. As it drew away up the straight, it pulled into the side, apparently it had burst a blood vessel. So then I had to fly these two poor wretches back to Cardiff and the weather was terrible. We had to fly down on the leeward side of the Welsh hills and we were buffeted like mad. Plentiful use of the sick bags. One very sad couple back into Cardiff.
.....Another flight was taking a party out to Ronaldsway on the Isle of Wight for the TT races. There was a motor cycle shop in Swansea and the owner was a keen supporter, a sponsor of the TT races and sponsored one of the riders. I had to fly them from Swansea so I flew from Cardiff the night before and Swansea airport at that time was not open so I had to fly over, do a low pass over the field to get rid of the sheep on the runway and then turn round and taxi in and all these hangars were there, some of them with the doors hanging off, so I picked one with a large enough entrance and just went in and shut down and by this time the taxi had arrived. I spent the night in Swansea and flew them up the next day. Again I was given a grandstand seat, watched the race and then flew them back down.
It was really a kind of taxi service.
It was, absolutely like a taxi service and until we'd been going for a while with these newly purchased Rapides and they started flying scheduled services. Right against the law. It was strictly illegal because the only people allowed to do scheduled services were the state corporations. Yet they blatantly advertised in the south Wales papers these regular flights to Jersey and Guernsey.
One of the first things you did was to fly an Irishman to Weston. What was that like?
That was before we started operating the scheduled service and because of prohibition, I don't think it's called that. The whole of Wales was dry, the only way to get a drink on a Sunday was to get out of Wales and the alternatives were the paddle steamer to Ilfracombe, or fly across to Weston super Mare. And a regular customer of mine was this Irish man who'd turn up and say take me to Weston Super Mare. I'd land as close to the flying club as I could and he'd go in and an hour or two later he'd stagger out and I'd fly him back to Cardiff. Half the time it was a struggle to avoid my passenger because if I'd followed him into the club he'd have been plying me with drinks.
.....Shortly after that we restarted the Cardiff-Weston service. This had been operating before the war and then it was decided to restart it and this was a scheduled service in conjunction with Western Airlines, who flew out of Weston Super Mare. They had Ansons, twin engined aircraft mostly used by the RAF for training and we had the Rapides. The first take off for the day would be about 8 o'clock and last landing about, just before it got dark really, at 9/10 o'clock at night. We could operate up to ten of these and surprisingly enough we operated reasonable loads even during the week, then Saturday and Sunday of course were very busy.
Pengham was a very busy airport wasn't it.
I wouldn't say that. No, we were the only people who flew there in any numbers. There was a flying club there, a chap called Kemp who was the flying instructor. He was a disciplinarian, a rather strict chap, so one or two of his pupils used to come to me and say, can you give us a lesson, but of course I wasn't qualified as an instructor but I would take them in any case and do what I could. They wanted to do aerobatics and of course we didn't have an aerobatic plane. I could do steep turns and stall turns and things like that and the only reason was that they couldn't do this with Mr Kemp.
What was your favourite aircraft?
Oh gosh. I suppose it has to be a Lancaster looking back but favourite civilian aircraft was probably the VC10.
It seems during the war you were saying the losses were huge, I can't imagine what that must have felt like …
It was something like, well the numbers are 55,000 aircrew and of course all aircrew during the war were volunteers and I think out of something like, I can't remember the numbers now, but it was something like 250,000 trained aircrew and the loss was 55,000. It's pretty horrendous.
Weren't you frightened waiting for the call to scramble?
I don't know. We were doing a job and we did it the best we could and you try to put things like that out of your mind. There were one or two occasions where a crew member was frightened. I certainly remember that.
.....One very innocent occurrence. We were doing a daylight raid and we hadn't done many daylights before that, they'd all been at night, and we flew into some flak, some Ack-Ack fire. And at night all you saw was a flash and that was the end of it. But in the daytime there was a puff of black smoke that stayed there and you'd look ahead and see the sky filled with these black puffs and it was far more frightening to fly into that than to fly into the odd flash that you'd seen as you flew. As we were flying along there was a great big puff quite close to us and at the same time a yell from the rear gunner. I said have you been hit and he said yes.
.....We were approaching the target so we carried on and I said, shall I send somebody back to give you a hand, one of the other crew members. He said, no, no, I'll be alright. Anyway on the way back I said, shall I get an ambulance to meet us when we land. No, no I'll be fine. When we got back a very sheepish rear gunner got out of the turret and I said, come on Tom, what happened. Apparently all that happened was that when this puff, this Ack-Ack shell burst, he'd swung his turret so suddenly that a spare intercom socket hanging at the side tapped him on the chest and that was enough. In the heat of the moment he really thought he'd been hit. He never lived that down.
Did you lose friends?
You didn't really make friends apart from your crew. You knew people in the crew, on the squadron, and lost plenty of them. I kept a little record. We weren't allowed to keep diaries, but I did keep a rough record of all the flights I flew and there was a little comment at the bottom, so and so, so and so, didn't return and I think that out of the 23 trips that I flew something like 15 crews didn't return. When I say 23 sorties, that was my 23 and on each one there'd be a dozen on the squadron so you'd have to multiply that 23 by 12 to get an idea of the statistics. It boils down to something like I think under 3% losses. It doesn't sound so horrendous when you say under 3% but when you say the life expectancy of a crew was 6 trips …
Did you ever think about what you were doing when you were bombing? Did you ever think there were people underneath you?
They were all beastly Huns to us and we just thought we were doing a job and the sooner it was over the better. I don't think there was any thought of compassion or sympathy for them. You just wanted to blow them off the face of the earth. A lot of people didn't have that attitude but that was certainly my crew's attitude without exception. I've heard a lot of people say that they were sickened by it and during the war they gave it a lot of thought, they kept thinking we shouldn't be doing this, it's indiscriminate, you don't know where the bombs are going half the time, but that was certainly not my or my crew's attitude.
Tell me more about Pengham Moor
Pengham Moors was, as the name implies, just a moor. It was very desolate out there. It was right on the water's edge and seabirds were flying around, all sorts of, not quite aquatic creatures but you know, you felt an affinity to the sea because it was so close, right on the edge. And of course we had sea mists would blow in and you were always conscious of the fact that it was sort of reclaimed moor. It was just a field, not a very big one. I can't even remember if there was a runway. We would take off from grass into wind as much as possible. Yes there was a runway, I remember now, but if that wasn't into wind we'd just take off into wind. A couple of hangars there, a terminal building but it was not a very nice place. Like all airports you know, they're bleak and they're windy, they're cold and not very interesting.
.....It was a bit different to the new Cardiff airport.
Well yes. I haven't flown from this one but airports these days, they still are bleak, windy and cold in my opinion but you get some decent architecture at least.
Do you miss flying?
I'm asked that a lot and I don't really because it changed so much. I don't try and claim that I was a pioneer in any sense but there was more feeling of participation in those days. If you were the captain of the aircraft you made the decisions whereas today you're a glorified bus driver.
.....To illustrate a point, when you cross the Atlantic you're given the flight plan, you're told what the weather is, what the fuel load is and what the forecast is for arrival. And on one particular occasion the forecast for New York was not good so I said we're arriving there at a busy time of the day and the weather's not very good, I want an extra couple of tons of fuel. When I got back off the trip I had to report to the flight manager and explain why I'd carried the extra couple of tons of fuel. When I gave the reasons I've just given you this chap said, well it wouldn't have mattered if you'd had to go to Boston.
.....So all command decisions were taken away from you. You just got on, did the job and got off. It's not the same job at all now and I wouldn't recommend anybody to take it up unless they're absolutely fanatical about flying and if they are I think they'll be disappointed.
Your childhood dreams have been taken away by technology?
No, no. I had my day and I don't regret any of it but as I say, I wouldn't recommend it to anybody today.
(The above is a transcript of an interview from a television programme entitled 'Wings Over Wales', broadcast on HTV Wales in 2000.)
Notes to Royston Day interview
1. Amy Johnson: Pioneer Airwoman (1903-1941)
Amy Johnson was born July 1, 1903, in Hull, Yorkshire. She learned to fly at the London Aeroplane Club in the winter of 1928-29 and her hobby soon became an all-consuming passion, not simply to make a career in aviation, but to succeed in some project which would demonstrate to the world that women could be as competent as men in a hitherto male dominated field. Her first important achievement, after flying solo, was to qualify as the first British-trained woman ground engineer, and for a while she was the only woman ground engineer in the world.
.....Early in 1930, she chose her objective: to fly solo to Australia and to beat Bert Hinkler's record of 16 days. At first, her efforts to raise financial support failed, but eventually Lord Wakefield agreed his oil company should help. Amy's father and Wakefield shared the £600 purchase price of a used De Haviland Gypsy Moth. Amy set off alone in the single engine Gypsy Moth from Croydon on May 5, 1930, and landed in Darwin on May 24, an epic flight of 11,000 miles. She was the first woman to fly alone to Australia.
.....In July 1931, she set an England to Japan record in a Puss Moth with Jack Humphreys. In July 1932, she set a record from England to Capetown, solo, again in a Puss Moth. In May 1936, she set a record from England to Capetown, solo, in a Percival Gull, a flight to retrieve her 1932 record.
.....With her husband, Jim Mollison, she also flew in a De Haviland Dragon non-stop from Pendine Sands, South Wales, to the United States in 1933 [this is the flight Royston Day witnessed]. They also flew non-stop in record time to India in 1934 in a De Haviland Comet in the England to Australia air race. The Mollisons were divorced in 1938.
.....After her commercial flying ended with the outbreak of World War II in 1939, Amy joined the Air Transport Auxiliary, a pool of experienced pilots who were ineligible for RAF service. Her flying duties consisted of ferrying aircraft from factory airstrips to RAF bases.
.....It was on one of these routine flights on January 5, 1941, that Amy crashed into the Thames estuary and was drowned, a tragic and early end to the life of Britain's most famous woman pilot.
.....Amy is remembered in many ways, one of which is the British Women Pilot's Association award – an annual Amy Johnson Memorial Trust Scholarship to help outstanding women pilots further their careers.
2. The Hindenburg
The Hindenburg was a German-built airship, a vast, 800 feet long balloon that flew paying passengers across the Atlantic in the days before aeroplanes were in common use. To achieve buoyancy, the Hindenburg was filled with hydrogen gas, the lightest element in the universe; unfortunately hydrogen is also the most explosively flammable element in the universe as well, a property which would eventually bring death to Hindenburg passengers. American-built airships, in contrast, were filled with helium, a heavier, but non-inflammable gas. America just happened to be the world's only manufacturer of helium in industrial quantities, but the US government refused to allow its export, with tragic consequences for the Hindenburg's passengers. (In 1938 the US government relented and granted a licence for the Graf Zeppelin's manufacturer's to import helium for the newly built Graf Zeppelin 2 – but Hitler then invaded Czechoslovakia and the export licence was withdrawn. World War Two saw the end of airships except for military use as blimps.)
The commercial flights of Hindenburg, along with Graf Zeppelin 1, pioneered the first transatlantic air service. A luxurious flying hotel, faster than any ship, she carried hundreds of passengers and travelled thousands of miles before being destroyed in a tragic fire on May 6, 1937 at Lakehurst, New Jersey in the USA. As the pride of the Third Reich prepared to land, hundreds of onlookers gathered to watch. Then, all of a sudden, there was a burst of flame just forward of the upper fin. In a matter of seconds the largest airship ever built went down in a fiery blaze.
35 people, including children, died in the flames – and nobody knew why. Sabotage? A bolt of lightning? The mystery surrounding the disaster was never resolved for years, despite many years of research. Then a NASA scientist at Cape Canaveral found proof that neither the hydrogen in the hull nor a bomb was to blame, but the fabric of the Hindenburg's outer skin and a new protective coating. A single spark of static electricity was enough to make it burn like dry leaves. The "infallible" German engineers had designed a flying bomb just waiting to explode and airships were abandoned soon after the Hindenburg tragedy.
[Some of the information on airships was gathered from a TV programme 'The Airships', broadcast on Welsh TV channel S4C at 3.35 pm, 4th June 2005.)