Teddy Mac's Books
TEDDY MAC AND THE RAILWAY BEARS
is a series of six children's books written by local author Margaret Edmonds and beautifully illustrated by Rikey Austin.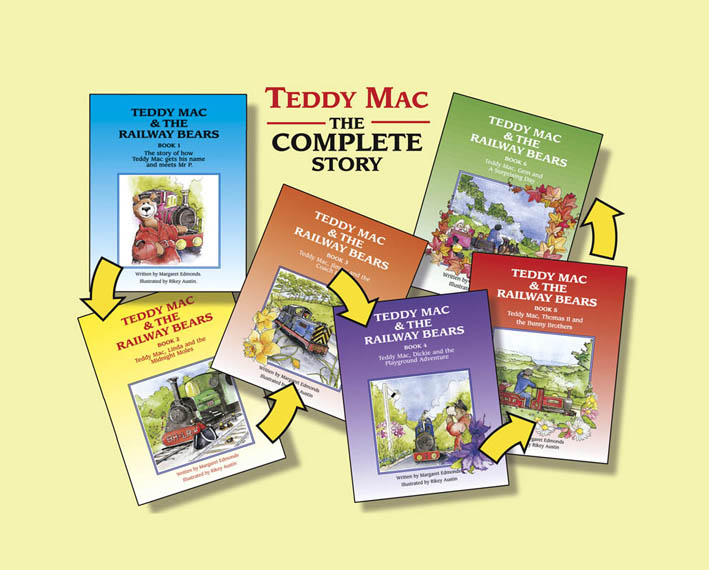 TEDDY MAC AND THE RAILWAY BEARS tells of a lost bear, found in a muddy puddle and taken home by Grandad, a steam train driver.
Each day, Grandad takes Teddy Mac back to PECORAMA with him to ride round on a different engine, just in case someone might claim him.
Book 1 - Tells of how Teddy Mac finds his new name and earns his Railway Cap.
Book 2 - Introduces the 'underground' part of the story with the Moles and the Marble Mine.
Book 3 - Includes a Birthday Party in 'Orion'.
Book 4 - Teddy Mac learns how to be a good listener and to make choices when he gets left behind on the platform at White Falls Halt.
Book 5 - Teddy Mac helps rescue the Bunny Brothers from a dreadful fate.
Book 6 - Completes the set by showing where he came from and finding out whether or not he goes back!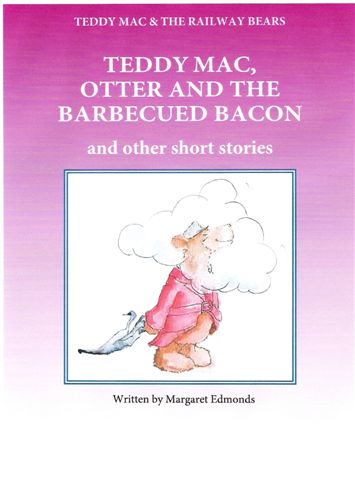 Book 7 - AND there is a NEW BOOK 7 full of SHORT STORIES of Teddy Mac's further adventures at Pecorama.
Each Teddy Mac book is complete within itself, but the six linked stories make up a much bigger tale of how he gains his confidence,
makes friends and discovers a whole new world above and below ground at PECORAMA.
Books available at the Pecorama Shop

Click Paw to go Home